DTN.IQ ONLINE SUPPORT
Launching DTN.IQ

Once you've successfully completed your DTN.IQ software installation, the DTN.IQ icon will appear on your PC's desktop. Click on it to launch the Login window.

CAUTION: Be sure you have already logged on to the Internet through your service provider before attempting to login to DTN.IQ.
DTN.IQ Login Window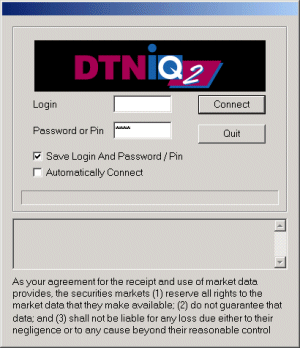 Type the User ID and PIN we sent you by email in the appropriate fields of the Login Window. Next click Connect.
DTN.IQ Menu Window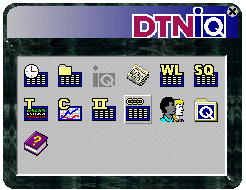 Once you have successfully connected to DTN.IQ's SmartServe server, the services to which you have subscribed will appear as clickable icons in the Menu window.

Click here for the Configuring DTN.IQ Tutorial Guide.

© 2022 DTN. All rights reserved. All Equities and Futures data is delayed according to exchange rules. NYSE and AMEX at least 20 minutes. Nasdaq at least 15 minutes. CME and CBOT at least 10 minutes. NYBOT, NYMEX and COMEX at least 30 minutes.

Have a Question for Sales?
Call 800-475-4755
or
Email sales@dtniq.com