DTN.IQ Watchlists
DTN.IQ watchlists enable you to select up to 1,800 symbols to watch during the day with ticks continually refreshed in real time. Our watchlist window also displays the latest news relevant to a particular stock. Much like a spreadsheet, you can drag and drop, cut and paste, auto sort and completely customize your watchlist down to the cell level. You can also export data as a DDE link, retrieve option chains, view regional quotes and hotlink to other applications.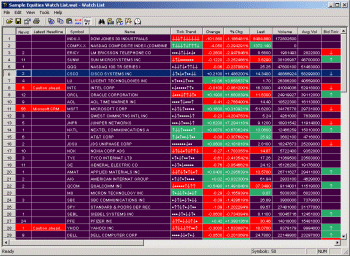 © 2022 DTN. All rights reserved. All Equities and Futures data is delayed according to exchange rules. NYSE and AMEX at least 20 minutes. Nasdaq at least 15 minutes. CME and CBOT at least 10 minutes. NYBOT, NYMEX and COMEX at least 30 minutes.

Have a Question for Sales?
Call 800-475-4755
or
Email sales@dtniq.com